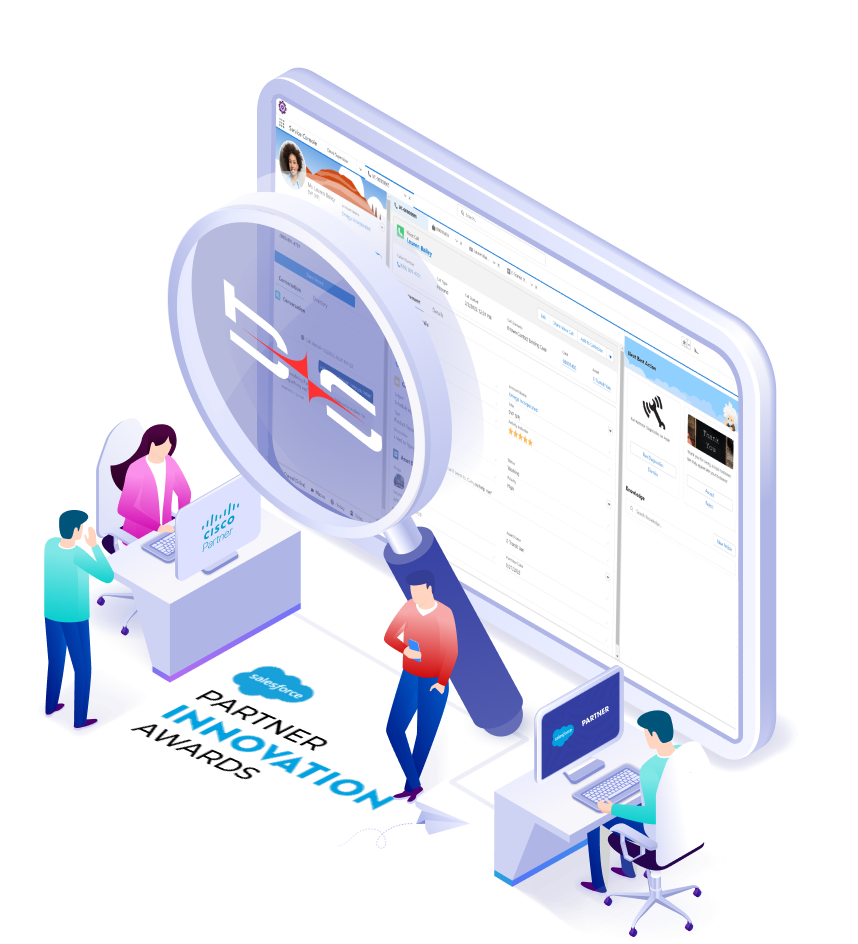 Secure and GPT-powered customer service
Salesforce GPT Clouds and Cisco Contact Center for full omnichannel AI power in the contact center
Voice Automation for Salesforce Customers and Contact Centers: Bucher + Suter combines the customer data and AI power of Salesforce GPT Clouds with the security and contact center strengths of Cisco Webex Contact Center. Webex Contact Center can be booked as an all-inclusive package in the cloud from EUR 49 per agent and month.
Seek advice from a specialist.
Bucher + Suter References
Maximum protection for business communication in the cloud
Only with a cloud solution that meets maximum security requirements can you concentrate on your actual work with a clear conscience: customer service that inspires. Webex is our recommendation to all those responsible and decision-makers for whom the protection of data is important.
Cloud Contact Center - but secure!
Close gateways to cybercriminals!
AI holds huge opportunities – also for cybercriminals! Customer service and contact centers will be a popular target. Email, WhatsApp, bots, ChatGPT, etc. are perfect for the intelligent AI attacks of tomorrow.
Cisco offers maximum security – also for your contact center.
As a major contact center specialist and Cisco partner, we offer you the most secure contact center-as-a-service platform on the market, as well as first-class services, with Webex Contact Center from Cisco.
Secure your customer service and contact center IT now with the certified-best security umbrella – and benefit from cutting-edge AI instead of fearing it. Learn more about Webex Contact Center on this page.
At Cisco, we've been using AI for years. Now we're introducing how we're incorporating generative AI into our existing products and helping our customers create real value to enable the most secure and unrivaled work experiences.
EVP and GM, Security & Collaboration, Cisco.
Data security and hosting in Europe
Security, integrity, reliability and compliance.
PCI-DSS v 3.2 Certification
Our offer:
EUR 8'000 package price
Cisco Webex Contact Center in numbers
first contact closing rate
One contact center software - many solutions
Omnichannel
Skill-based routing
Collaboration between agents and experts
Business application integration
Reports and dashboards
Omnichannel
Skill-based routing
Collaboration between agents and experts
Business application integration
Reports and dashboards
Excellent service at fair prices
Compatible with all existing unified communication systems | DSGVO-compliant | Open API | Web browser support
Prices may vary depending on requirements and setup
Prices are based on a minimum term of 3 years
Bucher + Suter also offers concurrent and overage pricing
Additional telecommunication and usage charges are not included
Please contact us HERE to organize a demo or obtain a binding quotation for your project
Standard agents
from €
49
/ month net
See features list below
One routing instance with one reporting platform for all language and omnichannel channels
One IVR-port per agent
Secure SIP
Worldwide "follow the sun" routing function
Open APIs for customer-specific integrations
Single sign-on (SSO)
Distribution of inbound voice calls
Customer satisfaction surveys via the IVR following consultation with an agent
Group-based routing for all contact channels
Skill-based routing for all contact channels
Use of each telephone or softphone of the agent
Use of Microsoft Teams as agent telephone
Use of Cisco Webex Teams app as agent telephone
Language assistance for the agent desktop, management portal and reporting
Web-based desktop
Desktop display in "dark mode"
Keyboard shortcuts
Agents' own contact history
Agents' own performance statistics
On-hold statistics
Team performance statistics
Individual screen pop for incoming calls to display customer data for an incoming contact
Call recording (with one month's storage)
Call conference, internal and external (warm transfer)
Call transfer, internal and external (cold transfer)
Individual follow-up grounds
Individual not ready grounds
Individual call number signalling for outbound calls
Individual creation of telephone directories
Individual agent desktop layout per team
Option to choose the current agent team by the agents incl. corresponding skill allocation
Webchat & email
Customer journey
Webex Connect
TLS 1.2 secured chat
Choice of chat contact reason
Web chat form branding
Chat button on the website
Support for transferring attachments and URLs in chat
Chat and e-mail answering with pre-configurable response options
Chat transfer and conference call with another agent or supervisor
Customers can download the chat transcript
An agent can take part in a multi-session chat
Follow-up grounds for chats
History of customer interaction
Intuitive call flow creation without intensive IT knowledge
Integration of third-party systems during routing via a REST API
Callback from the IVR
DTMF menus
Management announcements
Text to speech delivery via Google Cloud
Salesforce
MS Dynamics
Zendesk
ServiceNow
Freshdesk
Features in the CRM
Call logging
Click-to-dial
Screen pops
...
GDPR/DSGVO-compliant
European cloud
CATO-compliant (Cisco InfoSec Standard)
HIPAA-compliant
PCI-DSS Level 1-certified
Agent accessibility via WCAG
ISO 27001, 27017, 27018, 27701 check the trust portal link
Basic contact centre features
Customer satisfaction surveys via SMS
Customer satisfaction surveys via e-mail
Customer journey & NPS evaluation
Co-browse, WebRTC video calls during co-browsing
Screen sharing/online meeting
Agent desktop
Integration of a knowledge base
Outbound management
Call list management & contact management
Open API for importing call lists
Data export for campaign results
Inbound/outbound blending
Campaign reporting & evaluations of campaigns
Preview dialling
Follow-up grounds evaluation for the campaigns
Voice routing functionalities
Integration of voice BOTs
Text to speech (TTS) announcements
CRM integration
Workforce management (WFM)
Historic schedule adherence
Daily monitoring of the planning
Dynamic planning: allows agents, supervisors and staff analysts to collaborate on creating a plan that meets everyone's requirements
Dynamic planning: allows short-notice changes to the planning
Automatic approval of agents' requests: for exceptions, time off, offer/exchange of plans and care. Provides set workflows to automate approval, rejection, waiting lists and manual processing
Peer-mentoring initiated by the agent: if an agent submits a request and another agent take this on, approval is automatically granted by the line manager, and the schedules of both agents are updated.
Strategic planning and forecast: users can forecast staff needs based on trends
WFO quality management (QM) functionalities
Targeted evaluations: find interactions of interest precisely with a combination of transaction data, customer data, speech energy and other business-related metadata
Library with adjusted evaluation forms: as a percentage or by points
Precise evaluation comments: add comments to a call and search for comments by questions, sections or forms
Gamification of agent KPIs: Agents earn badges for quality ratings and compliance with guidelines
Evaluation calibration: line managers, managers and agents can comment on an evaluation to achieve a collaborative approach to quality
Automated contact queue: contacts are forwarded to a contact queue corresponding to the workflow configuration
The integration of post-call survey data with the call data makes playback easy to access during evaluations
Exporting calls: use for training sessions or within e-learning platforms
E-mail recording
Screen recording
Premium agents I Supervisors
from €
69
/ month net
All the same features as standard agents plus...
Intuitive SMS, WhatsApp, Facebook Messenger connection
Low-code & no-code workflow editor for creating digital inbound and outbound message distributions for integrating business processes
Call conversation monitoring (silent monitoring)
Call coaching & barge-in
Call recording & evaluation
Real-time reporting
Historic reporting (one-on-one call records & 30-min. period)
Export to Excel & CSV
Sending of reports by e-mail in line with a schedule
Data access via API
Pre-built contact centre dashboards
Reporting using Pivot tables
Entry of threshold values in the reports
Pre-built historic & real-time reports
Incoming calls: Total number of incoming calls during the reporting period
Agent activity: Total time an agent spends in each agent state
Answered calls: Number of calls answered by a receiving agent
On-hold contacts per time period: Number of contacts on hold during the reporting period
Abandoned contacts: Number of contacts who abandoned the call during the reporting period
Completed contacts: Total number of contacts in the system during the reporting period; includes answered and abandoned calls
Short calls: Total number of calls that finished within the threshold for short calls
Answering time: cumulative time between the arrival of contact calls at the Webex Contact Center Service and them being answered
Conversation/connection time: cumulative talking/connection time
On-hold time: cumulative time that contacts were on hold and waiting to be forwarded
Abort time: cumulative time that contacts were in the system for longer than the threshold for short contacts, but ended the call before it was answered by an agent
IVR time: cumulative time that calls spent in the IVR system, waiting to be processed
Percentage of contacts answered
Average processing time
Average time on hold
Average abandonment time
Average answering speed
Service level reporting
Real-time display of queues
Performance reports
Agent status report
Omnichannel functionalities
Integration of virtual agents: Chat bots for question and answer communication, and bots for processing standard business transactions
Customers can submit customer satisfaction surveys (CSAT)
Supervisor management console
Supervisor management incl. SMC cockpit
Maintenance of opening hours and holidays
Callflow switch for overflow circuits
Definition of the overflow times
Emergency routing activation
Now is the time to focus on growth - more satisfied customers and more efficiency.