Connected Customer Experience
CPaaS - compatible with all collaboration systems!
Manage all your customer interactions and channels in one place. Webex Connect is Cisco's answer for digital customer interactions.
Manage all your customer interactions and channels in one place.
Webex Connect is the Webex Contact Center solution for digital interaction with customers. The public cloud application offers proactive customer notification functionality, pre-designed templates for the ad-hoc creation of new services, AI bot integration, and interaction with surrounding ERP/CRM systems using REST web-service integrations.
Manage all your customer interactions and channels in one place. From APIs and pre-built integrations to low-code tools, Webex Connect offers your company everything you need to create and optimize communication channels that will give every customer a better experience. How does it do that?
Centrally managed customer interactions
Innovation with new communication channels
Faster delivery of connected customer experiences
Faster implementation of your IT roadmap
Rapid automation of customer journeys
Reduced duplication, no fragmentation
Not properly in control of your contact channels? The consequences are drastic:
Annoyed customers and high customer loss rates
Breakdown of valuable customer relationships
Zero or imprecise customer feedback
Negative customer experiences due to a lack of customer information
Lots of customers asking "Where's my order?"
Webex Connect is the light at the end of the tunnel!
Create and automate multichannel campaigns that promote customer acquisition and retention.
Use the Contact Center to support customer dialogue through any channel you want to.
Reduce the number of calls and improve customers' experience by sending notifications to them.
Webex Connect extends the options provided by Cisco Contact Center to allow comprehensive processing of any query via any contact channel. Webex Connect enables personalized, context-related communication with customers in real time. Premium service is guaranteed, whether the communication is via a mobile app, a social media message, an answer to a marketing email or a discussion with a contact centre agent. Because every point of contact on every channel is a chance to offer customers a rich, engaging and intuitive experience. Take a look at our video.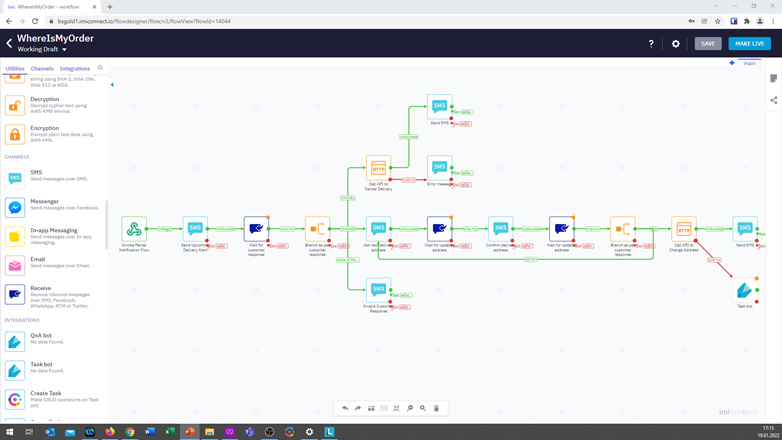 Are you having sleepless nights?
In competitive markets, customers turn away from companies if their problems are not resolved quickly and competently – irrespective of the contact channel.
We promote you to the top of the class in customer dialogue
We actively facilitate integration with global company systems
We automate interactions to improve the experience, save time and reduce costs
We keep our finger on the pulse of customer interactions to ensure seamless customer commitment
We work with every system, via every channel, and at any time
Typical business processes facilitated by Webex Connect
Making appointments with local technicians
Customer satisfaction surveys
Where's my order?
These business processes can be initiated as follows
An SMS or WhatsApp message can be sent while the customer is in the waiting loop
A link or QR code can be included in a customer email
An event causes the ERP/CRM to trigger digital contact with the customer
Consent management
Capture and manage consents across channels. Ensure interactions are compliant with regulatory requirements.
Frequency management
Control the frequency and time of contacts. Apply social hour checks and contact limits for different interaction types, channels, and contact groups.
Automate with a human touch
Conversational automation: use Natural Language Processing (NLP), Natural Language Understanding (NLU), and AI functions to facilitate conversational customer interactions.
Seamless agent handovers
Create and deploy bots to answer routine questions and automate tasks. Hand over conversations with full context to live agents when required.
Accelerated bot development
Utilize the no-code toolset, including a template designer and one-click tests, to rapidly build your own bots.
Webex Customer Experience
Webex ist eine Cloud, überall verfügbar und aus einem Guss, für die Verwaltung von Anrufen und digitalen Kanälen wie SMS, Chat, Messaging oder Email ..und ist mit allen bestehenden Unified Communication Systemen kompatibel!
Inspire your customers with TOP service!
In order to offer an all-round service, companies need a uniform app that is compatible with all existing systems. Webex Connect provides this with data centers in Europe. Webex CX's comprehensive platform consists of solutions that work seamlessly together and integrate with existing service center systems.
Optimize hold times, abandonment rate, and first call resolution rate with Webex Contact Center!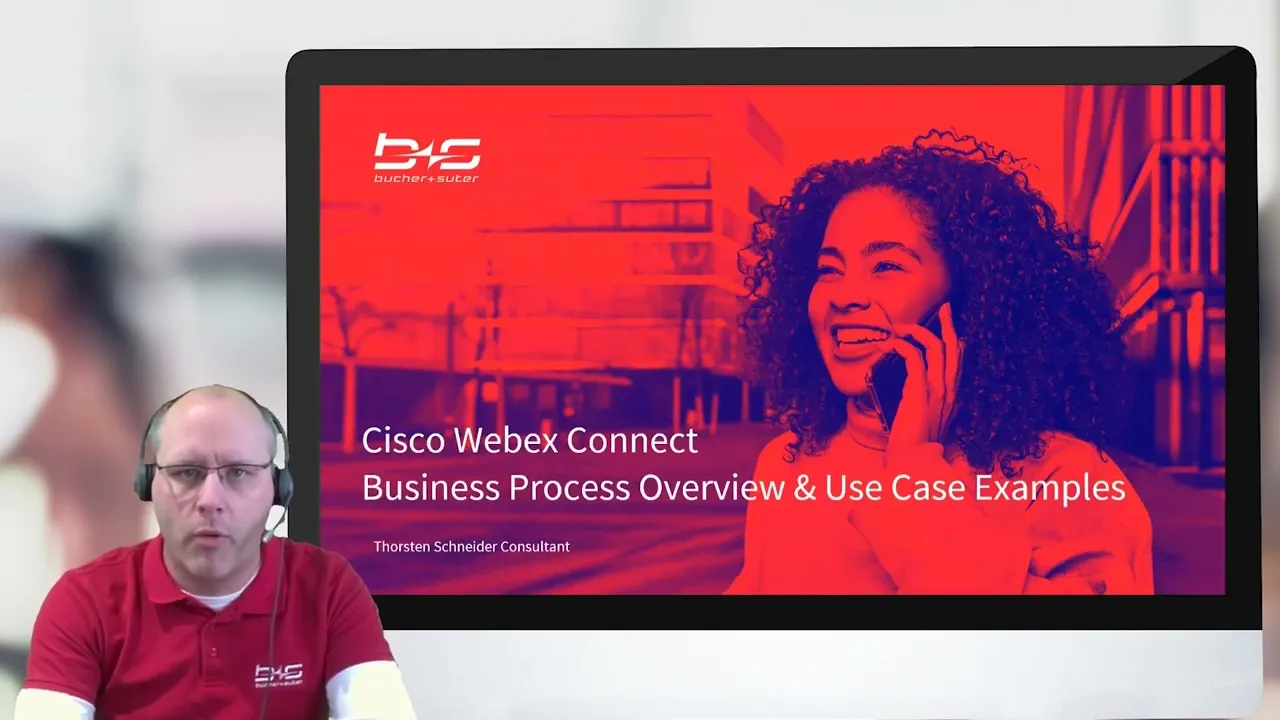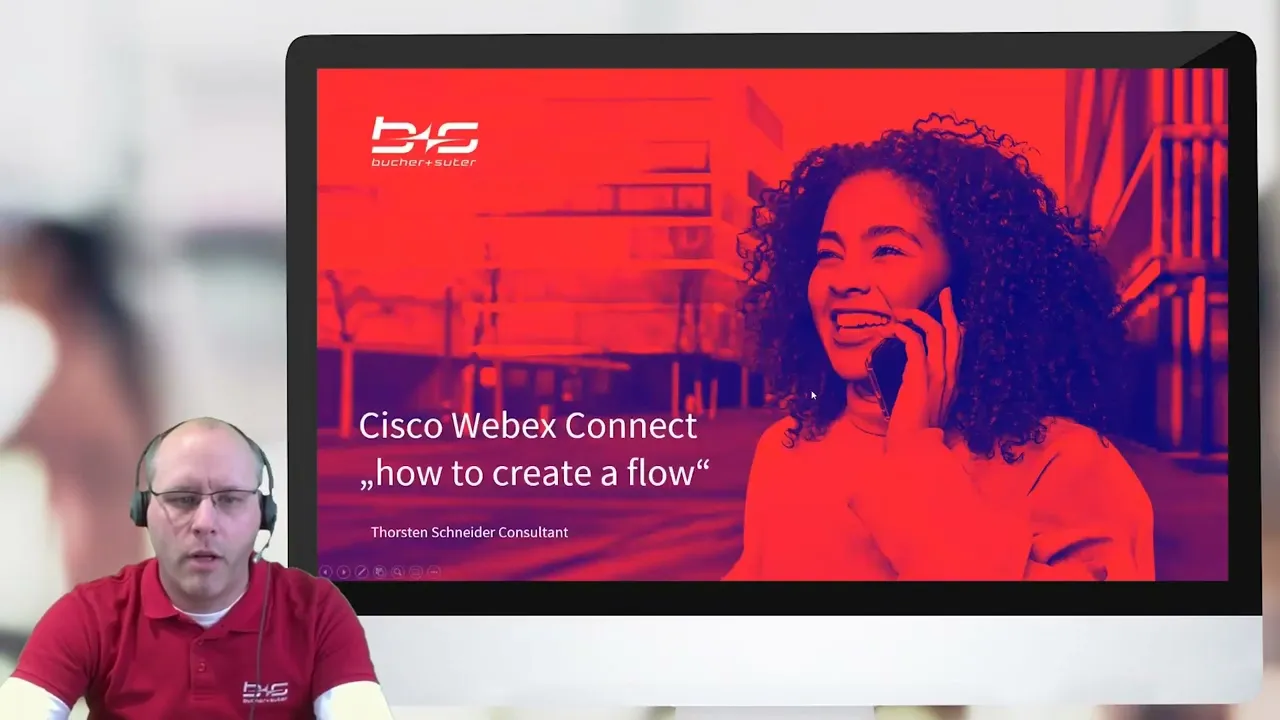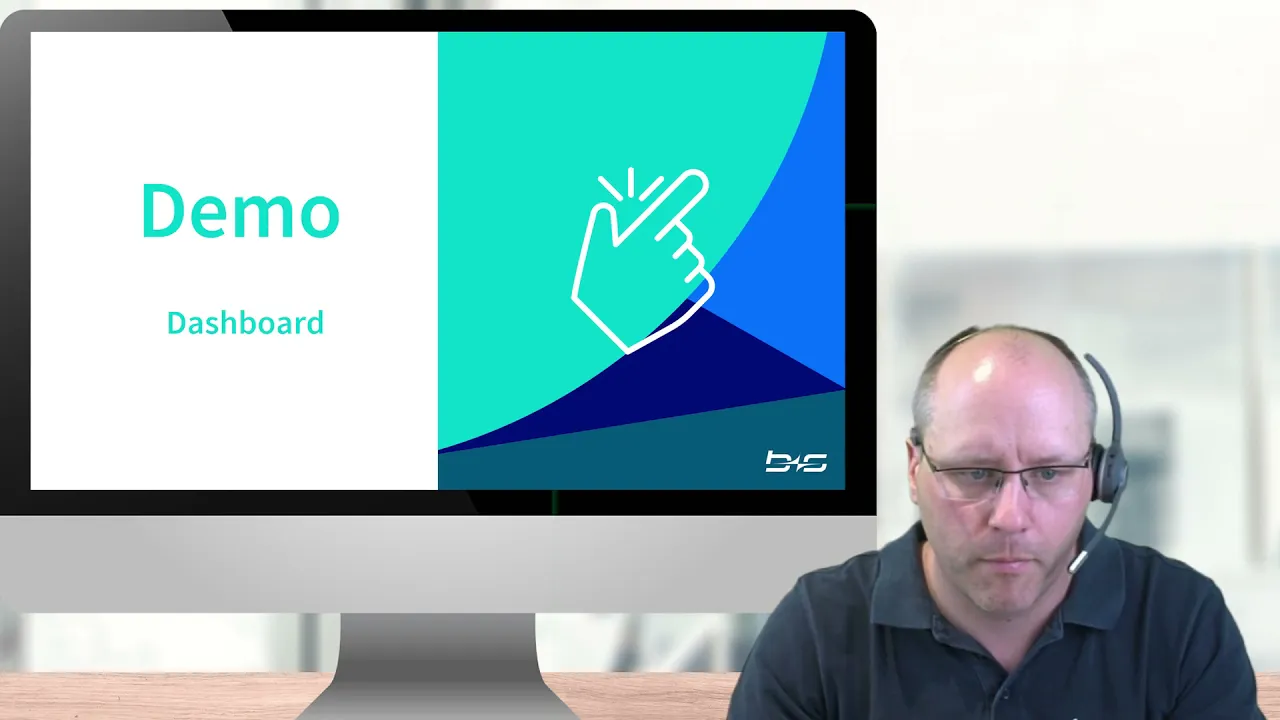 I'd love to give you personal & tailored advice.
Matthias Rose, Senior Consultant for Customer Experience solutions.
I listen carefully so I can fully understand what you're saying. That way we can ensure the solutions we provide work as you expect them to. Thanks to my dedication, over the last 20 years I've seen many projects through to successful completion and enjoy the trust of prominent clients in a variety of different industries. In my free time I enjoy sport and love going on adventurous outings with my family.
Mit Webex Customer Experience optimieren Sie die Wartezeit, die Abbruchquote, die Gesprächsdauer und die First Resolution Rate! Egal ob mit IVR, Voice & Chatbots, Email oder einem menschlichen Agenten.
Was tun Sie, wenn Sie auf Ihre Bestellung warten und der Lieferant nicht antwortet? Genau, Sie ärgern sich. Das tun auch Ihre Kunden, wenn Sie die digitalen Kontaktkanäle nicht ganzheitlich überblicken. Erfahren Sie hier, wie Sie mit Webex Contact Erfahren Sie hier, wie Sie mit Webex Contact Center jeden beliebigen Kanal kontrollieren und Kunden mit herausragendem Service begeistern!
Sprach-, E-Mail-, Social-Media- und Chat-Kommunikation befinden sich für Ihre Agenten, Manager und Administratoren in einer einheitlichen Umgebung, was eine nahtlose Arbeit ermöglicht und Datensilos eliminiert. Interaktionsprotokolle geben dem Agenten Informationen über einen Kunden und ermöglichen so einen besseren Kundenservice.
Kunden werden mit dem passendsten Agenten zusammengebracht, um die Anfrage möglichst präzise und kompetent zu beantworten und eine optimale Kundenerfahrung zu unterstützen.
Die Cisco Webex Team Collaboration Suite ermöglicht eine bedarfsgerechte und sichere Zusammenarbeit zwischen Ihren Kundenberatern, Managern und Fachexperten im gesamten Unternehmen.
Vorgefertigte CRM-Integrationen für Salesforce, Microsoft Dynamics, ServiceNow und SAP schaffen nahtlose Workflows, die die Geschwindigkeit und Präzision im Contact Center und die Abwicklung des Erstkontakts deutlich verbessern.
Daten aus Kundeninteraktionen und Aufzeichnungen von Agentenaktivitäten, einschließlich Interactive Voice Response (IVR) und Automatic Call Distributor (ACD), werden in den Echtzeit- und den historischen Berichten und Dashboards zusammengeführt, um den Betrieb des Contact Center zu optimieren.
Diese Suite bietet Contact-Center-Leitern, Agenten und Personalanalysten die Möglichkeit, Agentenpläne dynamisch zu verwalten, Prognosen zu erstellen und den Personaleinsatz auf der Grundlage von Trends zu planen sowie die Einhaltung von Plänen zu gewährleisten. Das Qualitätsmanagement unterstützt Sie bei der Messung der Effizienz und Leistung von Agenten mithilfe von maßgeschneiderten Bewertungsformularen.
Ein Outbound-Kampagnenmanager automatisiert ausgehende Anrufe für Vertriebs- und Marketingkampagnen. Die einfache Verwaltung, ein Compliance-Tool, ein flexibles und intelligentes Listenmanagement und ausgefeilte Regeln für das Wählmanagement – einschließlich der Verkettung von Kampagnen – geben Ihnen die Kontrolle.
The Webex Contact Center gives you centralized control of all inbound and outbound interactions, irrespective of organization, technology or location. Webex shows the current status of agents, teams, locations and partners, and routes each interaction to the agent who has the best skills to deal with the enquiry. The Webex Collaboration Suite allows customer advisors to communicate with colleagues both inside and outside the service centre in order to give customers even more precise advice and optimize their experience during every interaction.
Employee scheduling
Assign employees and monitor adherence to schedules Predict trends to avoid over or understaffing
Quality management
Measure the efficiency and performance of your employees with tailored evaluation forms Raise employee morale with gamification and agent self-evaluation
Integrated portfolio
Analyse spoken and desktop activities to gain insights Correlate the performance of agents with customer satisfaction surveys
Optimize hold times, abandonment rate...
and first call resolution rate with Webex Contact Center! Empower your agents to deliver better service, and automate some of your routine, communications through intelligent IVR, chat and voice bots, and virtual agents for more streamlined, more efficient workflows.
Voice, email, social media and chat communications are all grouped together in a single environment for agents, managers and administrators, which ensures a seamless customer experience and eliminates data silos. Interaction protocols provide agents with more context about the customer, thus enabling them to provide better customer service.
Customers are routed to the most suitable agent so the query can be answered as precisely and competently as possible to help provide an optimal customer experience.
The Cisco Webex Teams Collaboration Suite facilitates secure, needs-based collaboration between your customer advisors, managers and specialists throughout the entire company.
Collaboration between agents and specialists
Pre-built CRM integrations for Salesforce, Microsoft Dynamics, ServiceNow and SAP create seamless workflows which significantly improve the speed and precision in contact centres and the processing of initial contacts.
Integration of business applications
Data from customer interactions and records of agent activities, including interactive voice response (IVR) and automatic call distribution (ACD), are brought together in real-time and historic reports and dashboards to optimize contact centre operations.
This suite gives contact centre managers, agents and workforce analysts the ability to manage agent schedules dynamically, make forecasts, plan employee schedules on the basis of trends, and monitor adherence to schedules. The quality management (QM) functionality helps clients gauge the efficiency and performance of agents using tailored evaluation forms.
Comprehensive Workforce Optimization (optional)
An outbound campaign manager automates outbound calls for sales and marketing campaigns. You stay in control thanks to simple administration, a compliance tool, flexible and intelligent list management and clever selection management rules, including linking of campaigns.
Outbound campaigns (optional)
Webex Contact Center Agent Connection
The Webex Contact Center uses existing endpoints for call delivery. Agent telephones can be any phone or softphone on the public network, with the alternative option of using SIP trunking to integrate the existing telephone system, regardless of manufacturer.
With the Webex Contact Center all customer advisors are remote agents and have access to the same features irrespective of the endpoint. So it makes no difference if the agents are located in the work office or at home. All the features of automatic call distribution (ACD) are the same for all agents. Supervisors can continue to monitor and record agents' calls.
The only equipment required is:
A PC with internet access
A supported browser such as Firefox, Chrome, Safari or Microsoft Edge
An addressable telephone number
Webex Contact Center Agent Desktop
The features of the agent desktop include:
Support for voice, email, social media (incl. Facebook Messenger, SMS, etc.) and web chat channels
Automatic screen-pop features in customer-specific applications or CRM systems to increase agent productivity
Agent performance statistics to assess performance over the course of a day or longer periods
Call recording controls
Contact follow-up incl. reasons
Consumer satisfaction visuals incl. customer surveys via IVR or SMS (optional)
Chatbot integration incl. bot conversation view (optional)
Co-browsing functionality so agents can view the same webpages as the customer and complete forms as a PDF or on the webpage
Follow-up contact via WebRTC video calls between customer and agent (optional)
Webex Contact Center CRM Integrations
The Webex Contact Center has pre-built connectors that enable integration with several industry-leading CRM systems including Salesforce, ServiceNow, SAP and Microsoft Dynamics. As part of this integration, data about the customer and the context of the call are delivered to the agent in an automatic pop-up window. The Webex Contact Center also logs the interaction within the CRM application to keep a record of the inbound call. The integration enables click-to-dial from within CRM applications, allowing the agent to click on a telephone number to ring the customer. The outbound call is then automatically logged against the number dialled. The CRM connectors provide CTI integration between the Webex Contact Center ACD and the client's CRM tool. The toolset provides:
Agent status control
Call control
CRM contact click-to-dial
Pop-ups activated by automatic number identification (ANI) or call variables
Receipt of inbound calls
Placing of outbound calls (click-to-dial) from within the CRM
Automatic customer record display in CRM
Automatic call logging in CRM
Agent control of call recording
Cisco Webex Contact Center Follow-Up Grounds
Administrators can create follow-up grounds to log the reason for the call. This is used to assess why customers have called.
Not available or logout grounds
The grounds are customizable and can be used to log any agent activity that is not contact related, for example by selecting "Meeting" to signal that an agent is not available. This allows supervisors to closely monitor agent availability.
The grounds can be viewed in real-time and historic reports.
Webex Contact Center Call Recording
The module for call recording allows authorized users to record calls and create recording schedules. It allows supervisors or administrators to determine a recording schedule for each queue. Recording can be restricted at location, team and agent levels and there is flexibility to decide whether all or just a set percentage of calls will be recorded.
The recording schedule also provides the option to pause recording for a certain period if sensitive information is to be shared.
The recording feature is a jukebox-type application which gives supervisors access to recordings filtered by queues, locations, teams and agents.
The application allows recordings to be tagged with customized labels, which significantly reduces search time.
It also has an advanced search option that enables users to search for recordings by caller data (CAD variables), call attributes such as Dialed Number Identification Service (DNIS), Automatic Number Identification (ANI), session ID, recording duration and their own customized attributes.
Users can choose between two different recording options:
Compliance call logging
Percentage call recording
The compliance call logging option records all calls handled by a specific queue. This setting is useful for clients who need to record 100% of calls for compliance purposes. The percentage call recording option allows clients to record a proportion of the calls handled. This enables administrators to spot check the quality of calls across the whole company or carry out targeted quality monitoring for specific agents, teams or call centre locations. Calls to be recorded can be:
Randomly selected by the system on a percentage basis
Scheduled by time and/or day
Selected according to criteria such as the location, team or agent the call is routed to
The recordings are stored on the recording portal, which allows them to be archived and retrieved.
Webex Contact Center Management Portal
The Webex Contact Center Management Portal provides administrators and supervisors with web-based tools for real-time end-to-end management of their contact centres. Users can:
Set up flexible routing strategies for all contact channels.
Use web-based flow editors (low-code/no-code). These support the administrator or supervisor with call flow configuration.
Integrate any necessary surrounding systems with contact distribution via open REST web-service requests.
Assign agents to queues using skill-based routing.
Monitor performance in real time via dashboards and call monitoring.
Access historical reporting and analytics to track customer trends.
Webex Contact Center Routing Type Options
The Webex Contact Center offers a wide range of routing options to meet a variety of different call centre requirements. The routing options include:
Routing of contacts via a group to the longest available agent
Skill-based routing: This option helps contact centres manage agent skill sets at a granular level to optimize call routing strategies. Agents can be assigned multiple skills and skill types. Agent skills can be defined as:
A competency rating from 1 to 10
A "True" or "False" value
Inbound contacts are routed to the agent who has been available for the longest time.
Webex Contact Center Monitoring Features (call monitoring, coaching and barge-in)
Monitoring features, including monitoring, coaching and barge-in are Supervisor Desktop features. Supervisors can use the real-time dashboard to view the latest contact and agent statuses. A web-based dashboard provides a centralized point for managing and monitoring calls and contacts. Supervisors have a real-time overview of call volumes and agent activity across all locations. Call centre managers have the tools and information to measure and manage the distributed contact centre activities in real time. The queue status and the contacts waiting in the queue are displayed on the supervisor application. The call monitoring feature enables supervisors to access calls handled by the teams they manage and to listen to conversations. This can be done without the agent knowing (silent monitoring). The supervisor can listen to or barge in on the conversation at any time. The call monitoring feature offers a number of flexible options to provide the flexibility that supervisors need. Monitoring can be continuous, one-off, or scheduled. A combination of one or more queues, locations, teams, and agents can be specified for the creation of a monitoring schedule, or supervisors can choose to monitor a session in real time. Supervisors also can change the qualification profile (skill profile) of an agent in real time. This feature gives supervisors tactical tools to manage their agent teams and support contact centre management objectives.
Voice Connectivity Options
In total there are 3 different options for integrating PSTN with the Webex Contact Center:
On-premise or cloud SBCs using an SIP-PBX or UC solution provided by the client.
Webex Calling as a UC solution for agents using a cloud-connected PSTN. You can find a list of supported providers here.
Use of Webex Calling to connect with the WxCC cloud via a local gateway.
Usually a company would opt for a single, uniform voice connection option. However, depending on the requirements and/or national legislation, it is possible to use different options for different countries.
Option 1: On-premise/cloud SBCs with the client's own telephone system
Where it is not possible to utilize a direct connection between the PSTN/SIP provider and the Webex platform, it is possible to use the client's own gateways or a cloud SBC which is connected directly to the Webex Contact Center platform via secure SIP trunks. These gateways can either be hosted on the client's premises or on any cloud. The gateways function as ingress gateways for all inbound calls to the Contact Center and as egress gateways for all calls to the PSTN, so the client's carriers establish a connection there. With this option the agents work in a UC environment provided by the client, which could be a Cisco UC solution, a Microsoft Teams solution with a direct routing option or another on-premise or cloud telephone system. If the UC solution is directly connected to the same gateway as the Webex Contact Center platform's SIP trunk, there are usually no additional charges for calls within Webex, and the agents and client can fully utilize the benefits provided by their existing PSTN/SIP contracts.
In some countries this setup (using local/country-specific gateways) is required by law, for example if a network operator is only permitted to connect calls that have originated in the same country. More complex setups may be necessary if calls are to be recorded and national legislation prohibits the transfer of recordings to another country. If the local carrier still uses traditional ISDN/PSTN technology, the gateway must act as the SBC for the Webex Contact Center platform, which only supports SIP.
With Option 1 we have the possibility of creating a "follow the sun" contact centre with an SBC.
Option 2: Webex Calling with cloud-connected PSTN
It is possible to use the Webex Contact Center together with Webex Calling, a high-performance cloud UC solution from Cisco. It routes all contact centre-related calls from and to the PSTN to the Webex Contact Center.
Option 3: Webex Calling with local SBCs provided by the client
Another way in which agents can use Webex Calling for UC is to connect the client's own SBCs with the Webex platform either locally or via a dedicated SIP trunk.
This setup can be preferable if the local contact centre does not use any other UC/PBX solution and has public telephone network contracts in place with local network operators. If the local network operator still uses traditional ISDN/PSTN technology, the gateway must act as the SBC for the Webex Contact Center platform, which only supports SIP.
Cisco Webex Contact Center
Reduzieren Sie
Reduzieren Sie die Komplexität und die Kosten in Ihrem Contact Center.
Steigern Sie
Sie die Produkti-vität, und senken Sie die Gesamtbe-triebskosten.
Bringen Sie
Bringen Sie Sicherheit und unbegrenzte Transparenz, Flexibilität und Skalierba- rkeit in das Webex Contact Center.
Nutzen Sie
Nutzen Sie die schnell bereitgestellten neuen Funktionen, die im Vergleich zu anderen Lösungen drastisch reduziert wurden.
Warum Cisco Contact Center?
Die Contact-Center-Sparte von Cisco ist auf dem Markt für ihre skalierbaren, funktionsreichen, sicheren und äußerst zuverlässigen Contact-Center-Lösungen bekannt. Cisco ist die Plattform der Wahl auf dem High-End-Markt für Contact Center, mit der größten installierten Basis in Nordamerika (2019) und einem führenden Marktanteil von 3,6 Millionen Agenten und 36 000 Kunden weltweit.
Data security and hosting in Europe
Security, integrity, reliability and compliance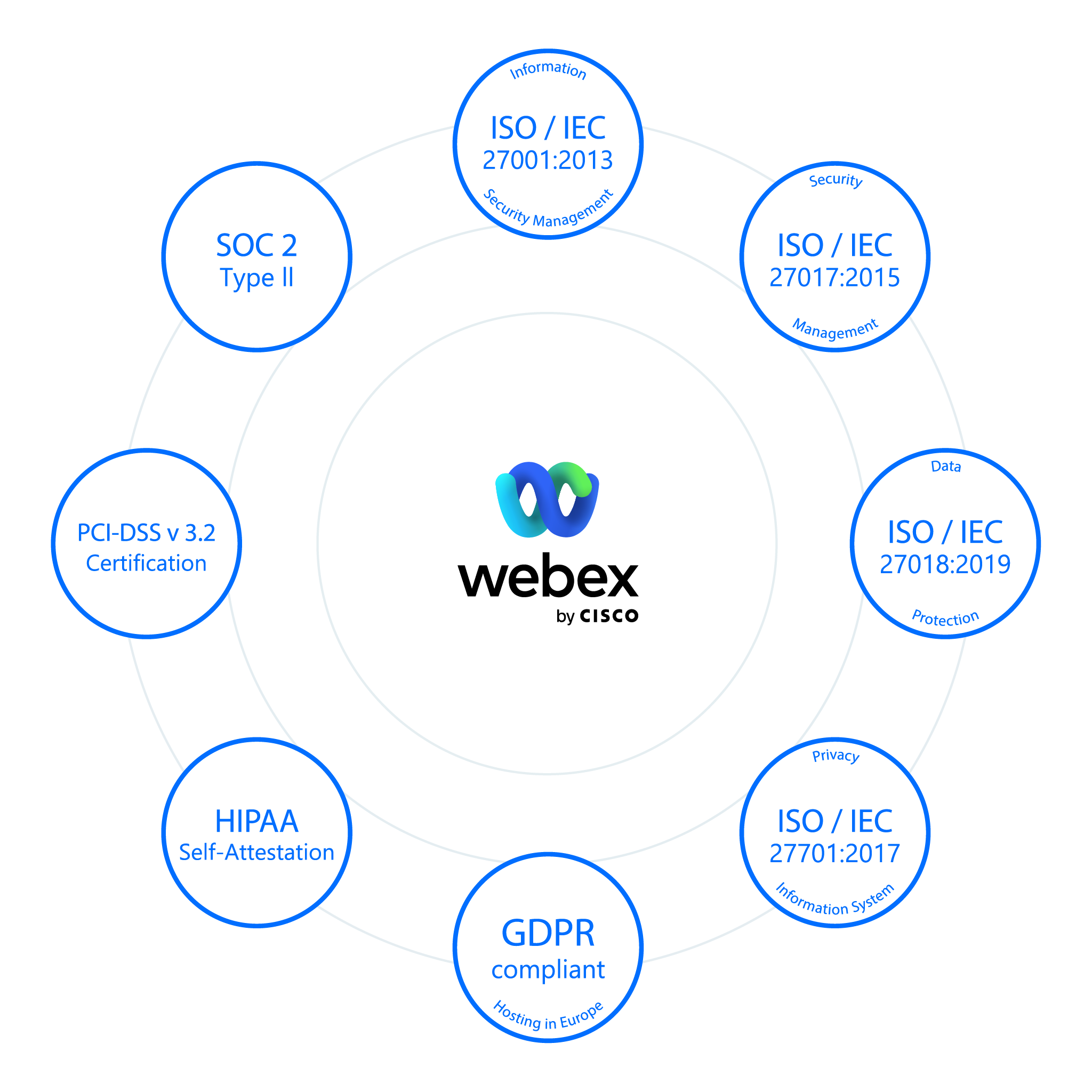 Security, integrity, reliability and compliance are key components of the Webex Contact Center and are built into every layer of its architecture. Cisco protects information in accordance with regulatory provisions and takes into account its sensitivity and criticality in terms of business services and continuity. The security practices and checks employed include limiting access to information and information systems by providing it on a "need to know" basis and following the principle of minimal permissions. The Webex Contact Center application layer is PCI-certified in the following areas: Protection of stored cardholder data and development and maintenance of secure systems and applications.
Our developers are trained in using secure coding techniques, including how to avoid common coding weak-points and how to handle sensitive data in storage and during transfer and storage. All drafts and code implementations are subjected to a code check, verified by tests and undergo change control before they move into production. The protection of stored data is a high priority. The Privacy Shield feature enables agents to pause the recording of a call while sensitive data is being transmitted, then resume recording. You can find further details of how the Webex Contact Center deals with personal data by clicking the following link.
Unified communication with Cisco Webex
Designed to break down barriers, connect people, and empower exceptional work – from anywhere. Seamless collaboration, intelligent hybrid work experiences, and smart customer experiences with built-in security, privacy, and insights enable better experiences.
Your agents have everything they need in one place
No app switching, screen-pop, and automated record updates means higher productivity. With all your customer interactions being tracked inside your CRM, you have everything in one place: where your customer resides! Draw valuable insights from your reports and see exactly where improvements can be made!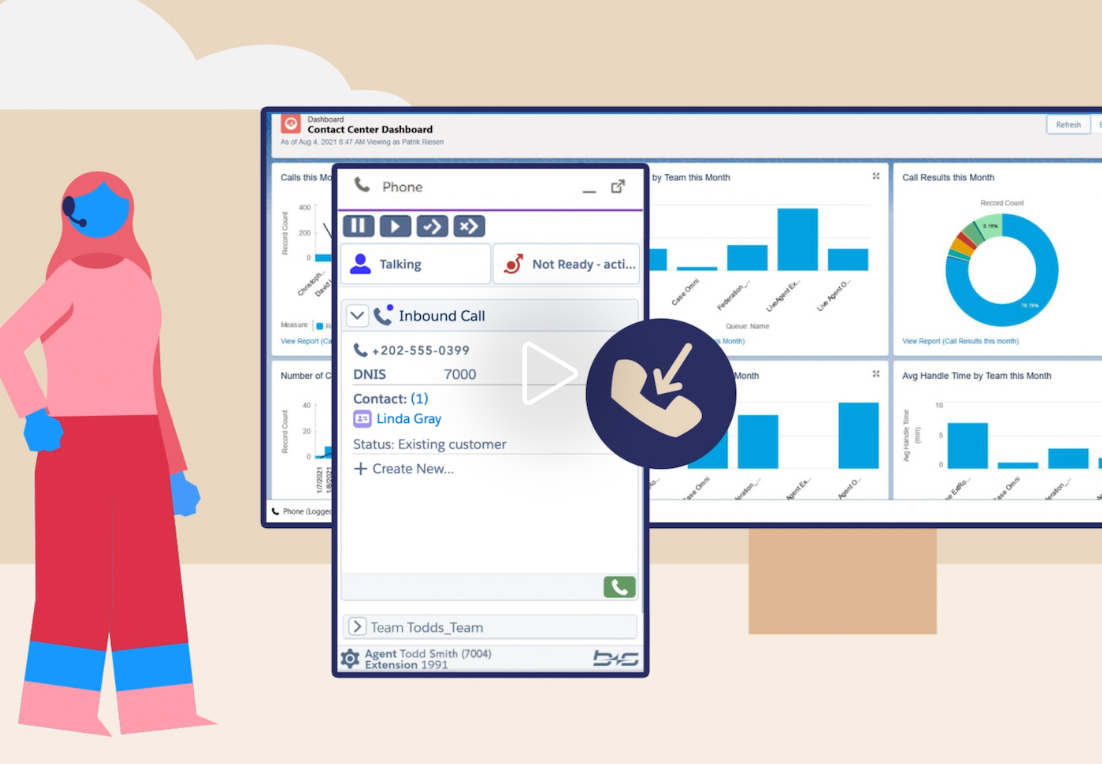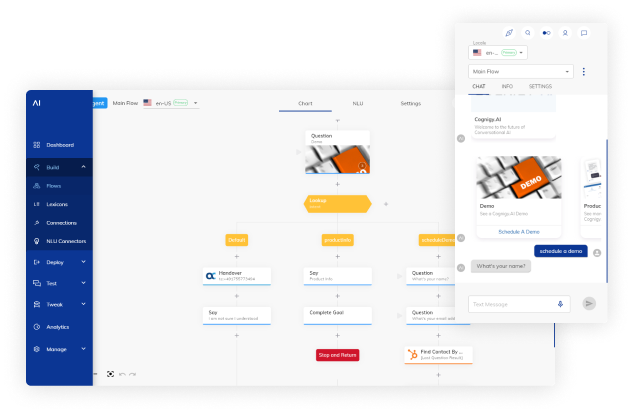 Increase availability with chat and voicebots
Conversational AI can assist in answering simple and recurring inquiries efficiently, competently, and immediately. Artificial intelligence relieves the workload of customer advisors, and customers are served around the clock without any additional effort.
Now imagine those queries being answered over the phone, via a voice-bot. For more complex requests, the bot can pick out the right employee and route the customer accordingly.
WFO - Workforce Optimization Suite for WFM, QM, Analytics :
Cisco Webex Workforce Optimization transforms the supervisor experience by giving supervisors access to more data and more powerful tools in simplified and flexible views so they are better able to lead their teams in delivering exceptional customer experiences.
Webex Experience Management:
The Webex Experience Management platform helps companies to achieve their business objectives:
Evaluating the customer journey
Understand the customer experience by continuously collecting data throughout the customer journey
Supervisor Management Console (SMC) :
The Supervisor Management Console (SMC) is a web-based administration and configuration tool and the main control element for supervisors. With intuitively presented data and the right tools, even supervisors without technical expertise can manage daily contact centre operations systematically. For example supervisors can specify opening times, manage overflows and make certain routing adjustments.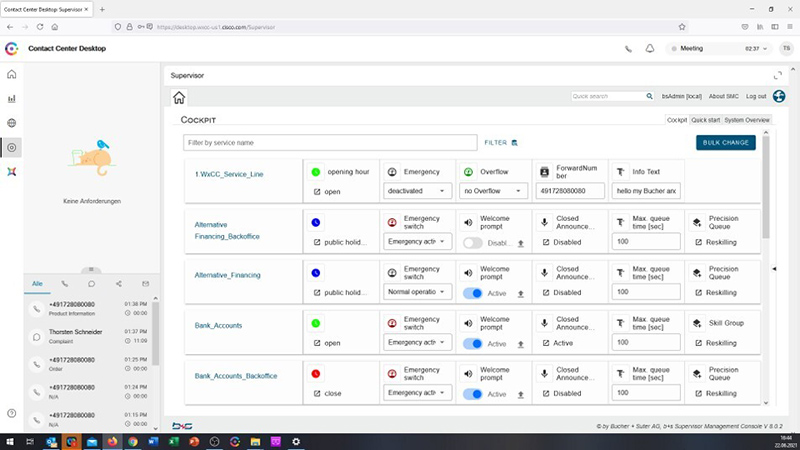 Outbound campaign management:
Cisco Webex Contact Center Outbound Campaign Management offers automatic outbound calls for sales-focused call centres. Like the other Webex Contact Center products, Outbound Campaign Management improves the productivity of agents and the overall performance of the contact centre. It allows agents to spend more time talking to customers and less time trying to reach them.
Co-browsing:
Universal co-browsing is an easy way of creating another significant communication channel which offers the functionality of surfing the web or filling out order forms together (online or as a PDF), or of agents giving advice via a video link. Co-browsing is a perfect addition to the Webex Contact Center and creates added value.
Webex Contact Center is built on a cloud-native platform hosted in Europe. The solution is extremely scalable and has an open API based on REST web services. This API enables third-party providers as well as in-house software developments to be integrated.
Take free learning sessions for Webex Contact Center and Webex Connect. Experts share their knowledge with you.
Excellent service at fair prices
Compatible with all existing unified communication systems | DSGVO-compliant | Open API | Web browser support
Prices may vary depending on requirements and setup
Prices are based on a minimum term of 3 years
Bucher + Suter also offers concurrent and overage pricing
Additional telecommunication and usage charges are not included
Please contact us HERE to organize a demo or obtain a binding quotation for your project
Standard agents
from €
49
/ month net
See features list below
One routing instance with one reporting platform for all language and omnichannel channels
One IVR-port per agent
Secure SIP
Worldwide "follow the sun" routing function
Open APIs for customer-specific integrations
Single sign-on (SSO)
Distribution of inbound voice calls
Customer satisfaction surveys via the IVR following consultation with an agent
Group-based routing for all contact channels
Skill-based routing for all contact channels
Use of each telephone or softphone of the agent
Use of Microsoft Teams as agent telephone
Use of Cisco Webex Teams app as agent telephone
Language assistance for the agent desktop, management portal and reporting
Web-based desktop
Desktop display in "dark mode"
Keyboard shortcuts
Agents' own contact history
Agents' own performance statistics
On-hold statistics
Team performance statistics
Individual screen pop for incoming calls to display customer data for an incoming contact
Call recording (with one month's storage)
Call conference, internal and external (warm transfer)
Call transfer, internal and external (cold transfer)
Individual follow-up grounds
Individual not ready grounds
Individual call number signalling for outbound calls
Individual creation of telephone directories
Individual agent desktop layout per team
Option to choose the current agent team by the agents incl. corresponding skill allocation
Webchat & email
Customer journey
Webex Connect
TLS 1.2 secured chat
Choice of chat contact reason
Web chat form branding
Chat button on the website
Support for transferring attachments and URLs in chat
Chat and e-mail answering with pre-configurable response options
Chat transfer and conference call with another agent or supervisor
Customers can download the chat transcript
An agent can take part in a multi-session chat
Follow-up grounds for chats
History of customer interaction
Intuitive call flow creation without intensive IT knowledge
Integration of third-party systems during routing via a REST API
Callback from the IVR
DTMF menus
Management announcements
Text to speech delivery via Google Cloud
Salesforce
MS Dynamics
Zendesk
ServiceNow
Freshdesk
Features in the CRM
Call logging
Click-to-dial
Screen pops
...
GDPR/DSGVO-compliant
European cloud
CATO-compliant (Cisco InfoSec Standard)
HIPAA-compliant
PCI-DSS Level 1-certified
Agent accessibility via WCAG
ISO 27001, 27017, 27018, 27701 check the trust portal link
Basic contact centre features
Customer satisfaction surveys via SMS
Customer satisfaction surveys via e-mail
Customer journey & NPS evaluation
Co-browse, WebRTC video calls during co-browsing
Screen sharing/online meeting
Agent desktop
Integration of a knowledge base
Outbound management
Call list management & contact management
Open API for importing call lists
Data export for campaign results
Inbound/outbound blending
Campaign reporting & evaluations of campaigns
Preview dialling
Follow-up grounds evaluation for the campaigns
Voice routing functionalities
Integration of voice BOTs
Text to speech (TTS) announcements
CRM integration
Workforce management (WFM)
Historic schedule adherence
Daily monitoring of the planning
Dynamic planning: allows agents, supervisors and staff analysts to collaborate on creating a plan that meets everyone's requirements
Dynamic planning: allows short-notice changes to the planning
Automatic approval of agents' requests: for exceptions, time off, offer/exchange of plans and care. Provides set workflows to automate approval, rejection, waiting lists and manual processing
Peer-mentoring initiated by the agent: if an agent submits a request and another agent take this on, approval is automatically granted by the line manager, and the schedules of both agents are updated.
Strategic planning and forecast: users can forecast staff needs based on trends
WFO quality management (QM) functionalities
Targeted evaluations: find interactions of interest precisely with a combination of transaction data, customer data, speech energy and other business-related metadata
Library with adjusted evaluation forms: as a percentage or by points
Precise evaluation comments: add comments to a call and search for comments by questions, sections or forms
Gamification of agent KPIs: Agents earn badges for quality ratings and compliance with guidelines
Evaluation calibration: line managers, managers and agents can comment on an evaluation to achieve a collaborative approach to quality
Automated contact queue: contacts are forwarded to a contact queue corresponding to the workflow configuration
The integration of post-call survey data with the call data makes playback easy to access during evaluations
Exporting calls: use for training sessions or within e-learning platforms
E-mail recording
Screen recording
Premium agents I Supervisors
from €
69
/ month net
All the same features as standard agents plus...
Intuitive SMS, WhatsApp, Facebook Messenger connection
Low-code & no-code workflow editor for creating digital inbound and outbound message distributions for integrating business processes
Call conversation monitoring (silent monitoring)
Call coaching & barge-in
Call recording & evaluation
Real-time reporting
Historic reporting (one-on-one call records & 30-min. period)
Export to Excel & CSV
Sending of reports by e-mail in line with a schedule
Data access via API
Pre-built contact centre dashboards
Reporting using Pivot tables
Entry of threshold values in the reports
Pre-built historic & real-time reports
Incoming calls: Total number of incoming calls during the reporting period
Agent activity: Total time an agent spends in each agent state
Answered calls: Number of calls answered by a receiving agent
On-hold contacts per time period: Number of contacts on hold during the reporting period
Abandoned contacts: Number of contacts who abandoned the call during the reporting period
Completed contacts: Total number of contacts in the system during the reporting period; includes answered and abandoned calls
Short calls: Total number of calls that finished within the threshold for short calls
Answering time: cumulative time between the arrival of contact calls at the Webex Contact Center Service and them being answered
Conversation/connection time: cumulative talking/connection time
On-hold time: cumulative time that contacts were on hold and waiting to be forwarded
Abort time: cumulative time that contacts were in the system for longer than the threshold for short contacts, but ended the call before it was answered by an agent
IVR time: cumulative time that calls spent in the IVR system, waiting to be processed
Percentage of contacts answered
Average processing time
Average time on hold
Average abandonment time
Average answering speed
Service level reporting
Real-time display of queues
Performance reports
Agent status report
Omnichannel functionalities
Integration of virtual agents: Chat bots for question and answer communication, and bots for processing standard business transactions
Customers can submit customer satisfaction surveys (CSAT)
Supervisor management console
Supervisor management incl. SMC cockpit
Maintenance of opening hours and holidays
Callflow switch for overflow circuits
Definition of the overflow times
Emergency routing activation
Do not hesitate, we are at your disposal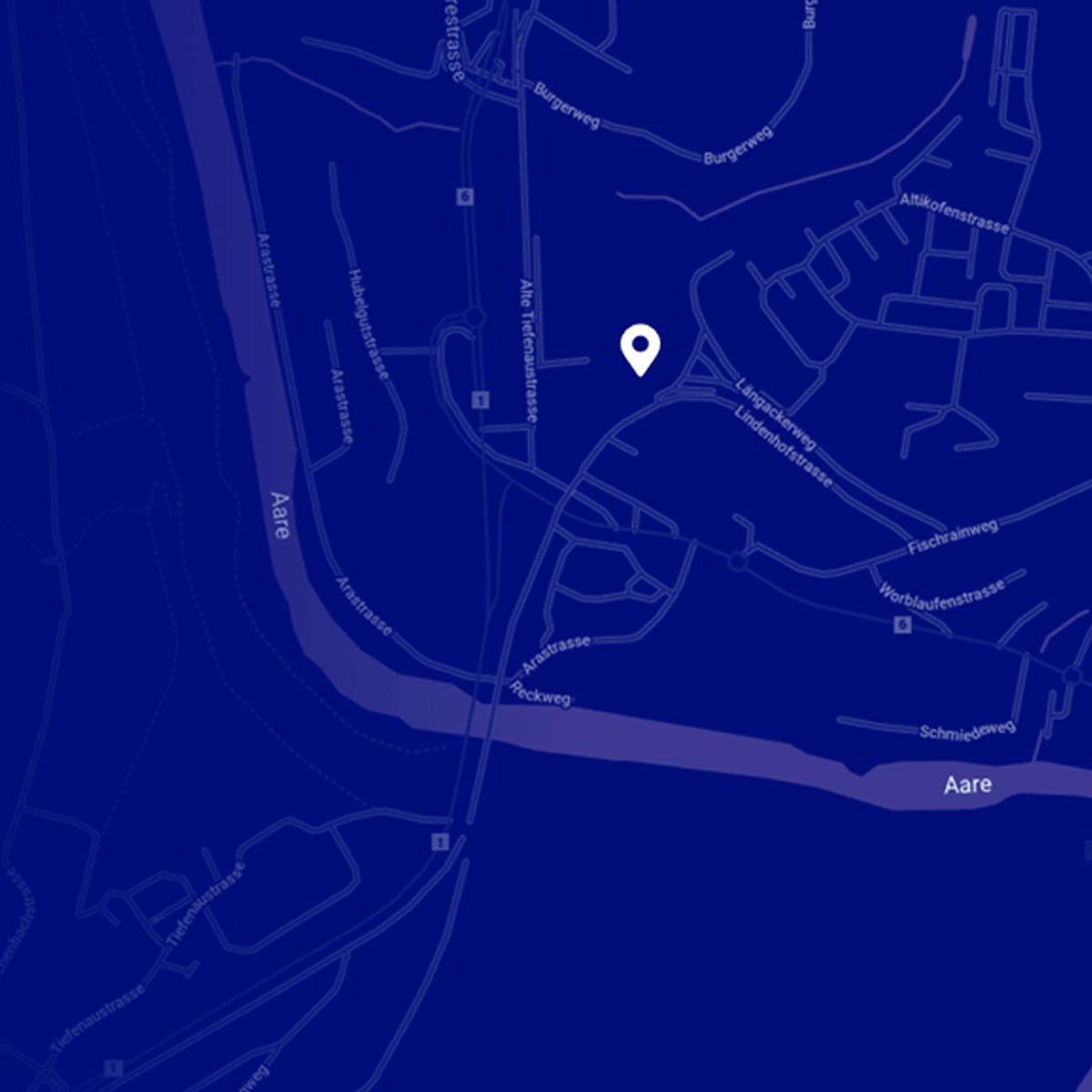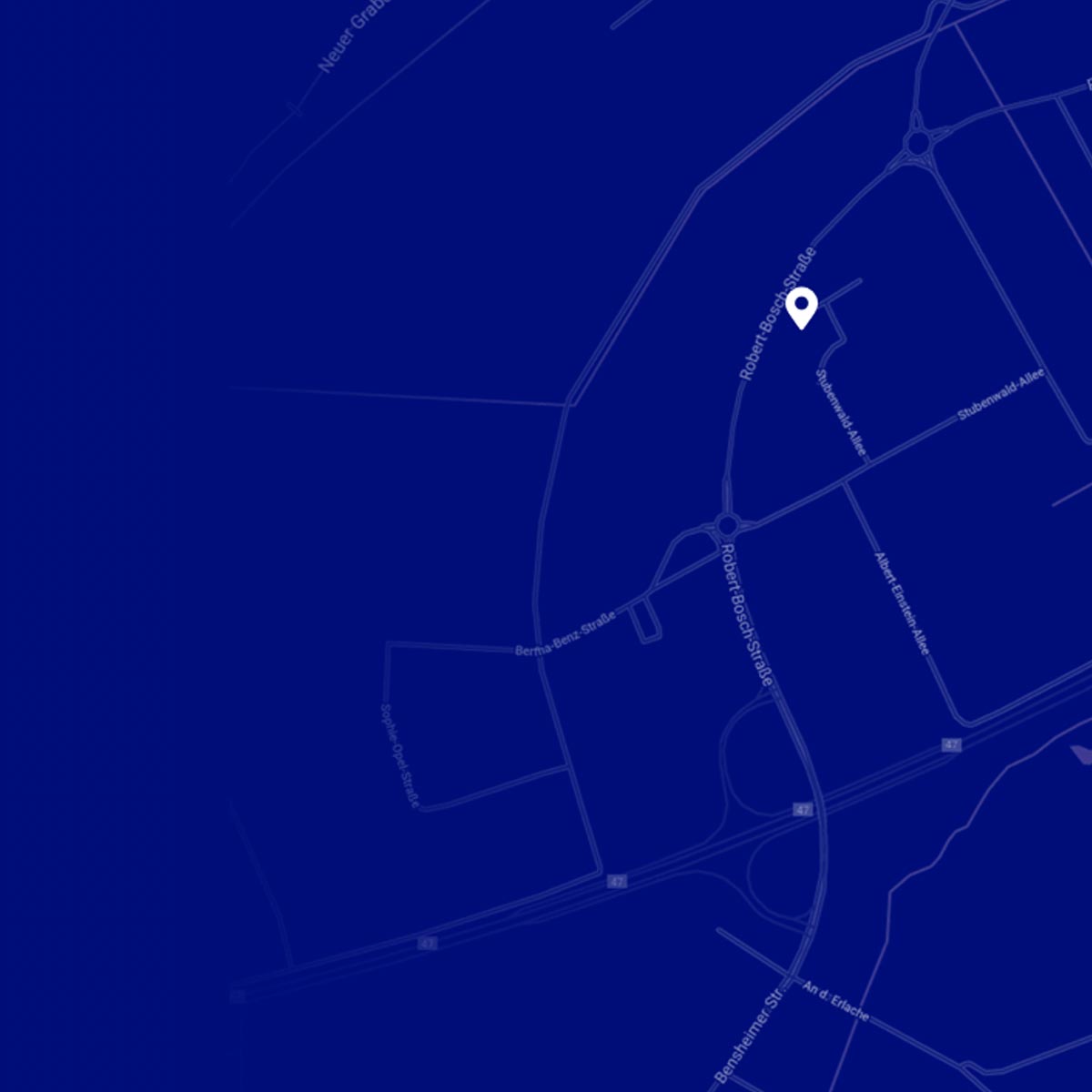 Let's talk!
Global 24x7 customer service